VOV.VN - From March to December 2023, many activities and events are held at all tourist attractions of Nghe An to attract tourists.
Nghe An tourism activities will be bustling again from March, with the sea chrysanthemum Ao Dai festival in Cua Lo town, the Cuong temple festival in Dien Chau district or the Quynh beach tourism festival in Quynh Luu district. On the occasion of being recognized as a provincial tourist destination, the tourist area Hon Mat in Nghia Loc commune, Nghia Dan district organized entertainment events, performances music... on April 4.
This year, the Cua Lo Tourism Festival will be opened on April 8, with many activities such as the opening ceremony and art fireworks, the art program "Going to the wallet of miles", the street carnival festival on Weekend nights, fishing festival, lantern festival...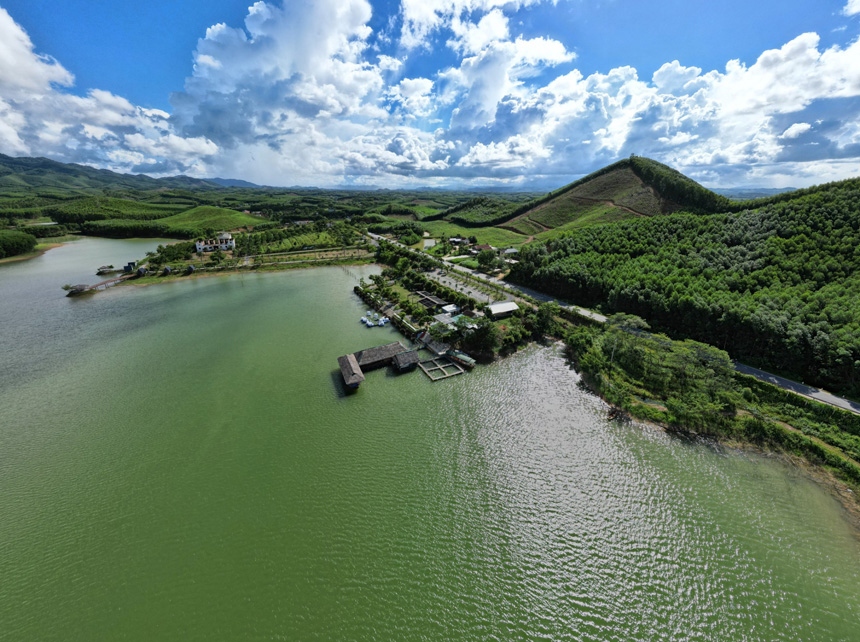 Hon Mat eco-tourism area in Nghia Loc commune, Nghia Dan district is a new destination in Nghe An. Photo: Trong Tan
One of the biggest programs in Nghe An is the Lotus Village Festival, with a number of events held from April 2023 while the main activity takes place from May 15 to 19 in Vinh city, Nam Dan district. and other districts. The Lotus Village Festival in 2023 will include the "Singing of the Lotus Village" festival; culinary culture festival and culinary contest to prepare dishes from lotus; street carnival "Summer Dance 2023"; performing ao dai theme "Sen"; marathon "Journey to Lotus Village"…
During the summer, events and festivals are held in many localities in Nghe An province. In particular, the highlight is the first time holding the international paragliding hot air balloon festival in Cua Lo town in the middle of May. There is also the festival "Drink water, remember the source" (from July 26 to July 27). , Vi, Giam Nghe Tinh Folk Song Festival (from August 12 to 18), Quang Trung King Temple Festival (September 13)…
In the fourth quarter of 2023, the biggest cultural-tourism event in Nghe An is the 235th anniversary of the Trung Do Phoenix, 60 years of Vinh City, taking place from October 5 to 10. Within the framework of this event, there will be a special celebration and art program associated with the fireworks show; performing folk songs Vi, Giam Nghe Tinh; international tourism - culinary festival; Vinh city photo exhibition; cultural and artistic exchange with Namjangju province - Korea and Hue city./.
Hai Nam/According to VOV.VN